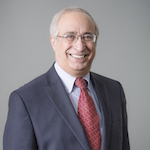 Adjunct Research Professor of Chemical Engineering and Materials Science
Education
Master's Degree, University of Southern California
Master's Degree, Electrical Engineering, University of Tehran
Bachelor's Degree, Electrical Engineering, University of Southern California
Bachelor's Degree, Electrical Engineering, University of Tehran
Biography
---
Dr. Fred Aminzadeh is Professor of Petroleum Engineering and Electrical Engineering, and Executive Director of its Global Energy Network (GEN.usc.edu). He also leads USC Reservoir Monitoring Consortium (RMC.usc.edu), Induced Seismicity Consortium (ISC.usc.edu) and Center for Geothermal Studies (CGS.usc.edu).

He has over 30 years of international experience in the oil and gas industry. His technical expertise includes: induced seismicity, seismic attributes inversion, AVO, reservoir characterization and monitoring, reserves evaluation, passive and 4D seismic, fractured reservoirs, unconventional fields and CO2 sequestration. He was the president of Society of Exploration Geophysicists (2007-2008) and represented SEG at the Unconventional Resources Technology Advisory Committee (URTAC), reporting to the secretary of Energy and Oil and Gas Reserves Committee (OG-RC) and JCORET.

He previously worked in technical and management positions, including manager of geophysical technology at Unocal (now Chevron). He was also president and CEO of dGB-USA (dgbes.com and member of technical staff at Bell Laboratories. He also consulted at several National Laboratories including Lawrence Berkeley (LBNL), Lawrence Livermore (LLNL), Los Alamos (LANL), Oak Ridge (ORNL) and National Energy (NETL.) He teaches graduate level courses on Intelligent and Collaborative Oilfield Systems Characterization & Management, and Advanced Oilfield Operations with Remote Visualization and Control. He holds 3 US patents, with another 2 pending. He has authored 14 books and over 350 publications spanning wide areas. He holds a Ph.D. degree from USC.



Research Summary
---
Reservoir Monitoring, Seismic Acquisition & Processing, Seismic Attributes, E&P Risk Analysis, Petroleum Economic Assessment, Micro earthquake data analysis, Shale gas/oil elastic modeling and amplitude versus offset (AVO), 4D Seismic, Reservoir Characterization
Geothermal Technologies, Artificial Intelligence & ANN, fuzzy logic, fractals, Fracture Detection, signal processing, Kalman filtering, environmental remediation, Energy Sustainability,


Awards
---
2011 SPE Western North America Region Reservoir Description and Analysis,
2011 IEEE Simon Ramo award (nominated)
2010 Eni award for the New Frontiers in Hydrocarbon Prize (nominated)
2010 IEEE Simon Ramo award (nominated)
2010 Orange County Engineering Council Distinguished Educator of the Year
2006 World Oil Innovative Thinkers award finalist
2005 World Oil Innovative Thinkers award finalist
1998 Societyy of Exploration Geophysicists SEG Special Commendation Award,
1995 Russian Academy of Sciences Kepitsa and Peter the Great Medals
1995 Russian Academy of Natural Sciences Foreign Member
1995 IEEE Fellow
1992 Honorary member of Azerbaijan Oil Academy, Honorary member