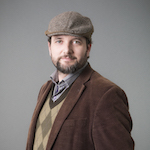 Associate Professor of Technology and Engineering
Education
1998, Masters, Journalism, University of Southern California
1995, Bachelors, University of California-Los Angeles




Biography
---
A Senior Lecturer in the Information Technology Program in the USC Viterbi School of Engineering, Patrick Dent has taught New Media, Web development and database and programming courses at the University of Southern California since 1998.

He came to USC and teaching after working in graphic and web design, programming, and as a newspaper reporter and magazine writer.

Patrick evangelizes Web development technologies to students of all backgrounds, from business to computer science to music, trying to increase the skills of all students.

He acts as the faculty advisor to students in the Web Technologies and Applications minor.

Patrick thinks a thorough technical knowledge is useful to far more than just developers, but also to the project managers, creative types, and clients they work with.



Awards
---
2002 Information Technology Program Faculty of the Year