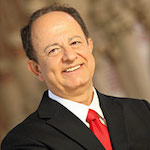 Robert C. Packard President's Chair and Malcolm R. Currie Chair in Technology and the Humanities
Education
1997, Bachelor's Degree, Electrical and Mechanical Engineering, National Technical University
1982, Doctoral Degree, Electrical Engineering, State University of New York at Buffalo
1980, Master's Degree, Electrical Engineering, State University of New York at Buffalo
Biography
---
C. L. Max Nikias became the University of Southern California's eleventh president in August 2010. He holds the Robert C. Packard President's Chair and the Malcolm R. Currie Chair in Technology and the Humanities, and chairs the USC Health System Board. He has been at USC since 1991, as a professor, director of national research centers, dean, provost, and now president. He holds faculty appointments in both electrical engineering and the classics. Additionally, he leads special freshman seminars each fall on ancient Athenian democracy and drama.

Dr. Nikias is a fellow of the American Academy of Arts and Sciences, a member of the National Academy of Engineering, a charter fellow of the National Academy of Inventors (NAI), and a fellow of the Institute of Electrical and Electronics Engineers (IEEE) and the American Association for the Advancement of Science. Among numerous other honors, he has received the IEEE Simon Ramo Medal, the State University of New York at Buffalo's Distinguished Alumni Award, and honorary doctorates from Hebrew Union College – Jewish Institute of Religion and the University of Cyprus.

Dr. Nikias is recognized internationally for his pioneering research on digital signal processing, digital media systems, and biomedicine. The U.S. Department of Defense has adopted a number of his innovations and patents in sonar, radar, and communication systems. He has authored more than 275 journal articles and conference papers, three textbooks, and eight patents, and has mentored more than 30 Ph.D. and postdoctoral scholars. Three of his publications received prestigious best papers awards.

As president, Dr. Nikias has articulated a vision for USC to attain undisputed, elite status as a global research university. His initiatives include recruiting a cadre of transformative, world-class faculty; elevating USC's academic medical enterprise; expanding USC's international presence; further improving the breadth and quality of USC's outstanding student body; and embarking on the largest fundraising campaign in the history of higher education.

The Chronicle of Higher Education has called Dr. Nikias a "prodigious fundraiser." His first three years as president were highlighted by 23 transformative gifts that allowed USC to raise an unprecedented total of $3 billion. These gifts include a $200 million gift from Dana and David Dornsife to name USC's College of Letters, Arts and Sciences—the single largest donation in the university's history; a $150 million gift from the W. M. Keck Foundation for medicine; a $142 million gift from an anonymous donor; $110 million gift from Julie and John Mork to support student scholarships; a $70 million gift from Jimmy Iovine and Andre Young for arts, technology, and the business of innovation; a $50 million gift from the Price Family Charitable Fund to endow and name the USC Sol Price School of Public Policy; and a $50 million gift from Dr. Gary Michelson for convergent bioscience.

Dr. Nikias brought the nation's largest literary festival, the Los Angeles Times Festival of Books, to USC. In addition, under his leadership, the university embarked on a major capital construction initiative that already includes the McKay Center for athletics, the Engemann Student Health Center, a new Cinematic Arts building, the University Club at Stoops Hall, the Soto Building on the Health Sciences Campus, Dauterive Hall for social sciences, Annenberg Hall for journalism, and beautification projects for both of USC's campuses, which include the planting of thousands of trees.

In recognition of his efforts to renew USC's athletics heritage, The New York Times selected Dr. Nikias as one of a small number of national figures "who make sports' little corner of the world a better place."

Dr. Nikias received a diploma from the National Technical University of Athens, also known as National Metsovion Polytechnic, the oldest and most prestigious higher education institution of Greece, and later earned his M.S. and Ph.D. from the State University of New York at Buffalo. His wife, Niki C. Nikias, received a bachelor's degree in accounting from the Athens University of Economics and Business in Greece and a master's degree in business administration with a specialization in finance from the State University of New York at Buffalo. They have two daughters, both of whom are graduates of USC.


Research Summary
---
digital signal processing, digital media systems, and biomedicine


Awards
---
2015 American Academy of Arts and Sciences Fellow
2015 National Academy of Engineering Member
2015 National Academy of Inventors Charter Fellow
2015 Institute of Electrical and Electronics Engineers Fellow
2015 American Association for the Advancement of Science Fellow
2015 IEEE Simon Ramo Medal
2015 State University of New York at Buffalo Distinguished Alumni Award and Clifford C. Furnas Memorial Award
2015 Republic of Cyprus Aristeia medal
2015 USC Black Alumni Association Thomas Kilgore Service Award
2015 California Governor Commendation for cutting-edge Research