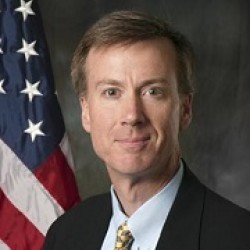 Adjunct Professor of Computer Science
Education
Biography
---
Richard W. Selby is the Head of Software Products at Northrop Grumman Space Technology in Redondo Beach, CA. He leads a 250-person software organization and has served in this position since 2001. Previously, he was the Chief Technology Officer and Senior Vice President at Pacific Investment Management Company (PIMCO) in Newport Beach, CA where he managed a 105-person organization for three years. From 1985-1998, he was a Full Professor of Information and Computer Science (with tenure) at the University of California in Irvine, CA (UC Irvine).

Since 2004, he has been an Adjunct Full Professor of Computer Science at the University of Southern California (USC) in Los Angeles, CA. In 1993, he held visiting faculty positions at the Massachusetts Institute of Technology (MIT) Laboratory for Computer Science and Sloan School of Management in Cambridge, MA, and in 1992, he held a visiting faculty position at the Osaka University Department of Computer Science in Osaka, Japan.

His research focuses on development, management, and economics of large-scale mission-critical systems, software, and processes. He has authored over 115 refereed publications, authored or edited four books, and given over 245 presentations at professional meetings. He co-authored an international best-selling book that analyzed Microsoft's technology, strategy, and management that was entitled Microsoft Secrets: How the World's Most Powerful Software Company Creates Technology, Shapes Markets, and Manages People. The book, written with Michael Cusumano, has been translated into 12 languages, has 150,000 copies in print, and was ranked as a #6 best-seller in Business Week. He also edited the book Software Engineering: Barry W. Boehm's Lifetime Contributions to Software Development, Management, and Research. He has served on the editorial board or as a guest editor for the IEEE Transactions on Software Engineering, Empirical Software Engineering, Software Quality, and Software Testing, Verification, and Reliability journals.

At Northrop and PIMCO, he was responsible for the successful development and management of over 55 products that had over 330,000 system requirements and over 11,000,000 source-lines-of-code. At Northrop, he led the $3 billion company to a successful enterprise-wide rating of Capability Maturity Model Integration (CMMI) Level 5 for Software. He served as the Software Integrated Project Team (IPT) Manager and/or Chief Software Engineer for the NASA Prometheus spacecraft to Jupiter, NASA Crew Exploration Vehicle (CEV) replacement for the Space Shuttle, and Air Force Advanced Extremely High Frequency (AEHF) satellite communications payload system. He led the Achieving Competitive Excellence (ACE) Best Practices Initiative for Software and the Common Spacecraft Bus Architecture Initiative for Software. He also received the company's highest quality award, named after former President Tim W. Hannemann, for improvements in development, management, process, and quality. At PIMCO, he led the $1 billion company to be ranked as the fourth most innovative technology organization in financial services, according to Wall Street & Technology. At UC Irvine, he created the Amadeus measurement-driven analysis and feedback system and facilitated its usage in over 50 organizations worldwide.

He received his Ph.D. and M.S. degrees in Computer Science from the University of Maryland, College Park, MD in 1985 and 1983, respectively. He received his B.A. degree in Mathematics from St. Olaf College, Northfield, MN in 1981.


Research Summary
---
development, management, economics of large-scale mission-critical systems, software, processes