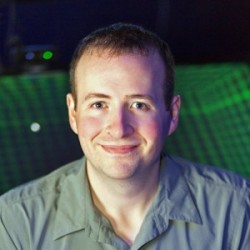 Research Assistant Professor of Computer Science
Education
2010, Doctoral Degree, Computer Science, University of North Carolina at Charlotte
2005, Bachelor's Degree, Computer Science, Ithaca College




Biography
---
Evan Suma Rosenberg is the Associate Director of the MxR Lab at the Institute for Creative Technologies and a Research Assistant Professor in the Department of Computer Science at the University of Southern California. He received his Ph.D. in 2010 from the Department of Computer Science at the University of North Carolina at Charlotte. His research focuses on techniques and technologies that can enhance virtual reality and human-computer interfaces, with particular interests in locomotion, perception, and cognition.

Dr. Suma Rosenberg has co-authored over 70 academic publications, eight of which have been recognized with conference awards, and is a five-time SIGGRAPH presenter. His research has been funded by the National Science Foundation, the U.S. Army Research Office, the Office of Naval Research, and the Defense Advanced Research Projects Agency (DARPA). He has directed the development of a number of publicly released free software projects, including: (1) the Flexible Action and Articulated Skeleton Toolkit (FAAST) to support integration of gesture interaction in video games and virtual reality experiences;(2) Fast Avatar Capture software for rapid scanning and animation of 3D human models; and (3) the Redirected Walking Toolkit to enable room-scale walking through large virtual reality environments in limited physical spaces. Dr. Suma's online research videos have been viewed over 2.4 million times, and his team received first place at the 2015 SIGGRAPH Immersive Realities AR/VR Contest.


Research Summary
---
My research interests include the design and evaluation of natural interaction techniques to improve the experience and effectiveness of real-time computing systems. For example, my work in the area of immersive virtual environments investigates the use of perceptual illusions that enable users to walk naturally through expansive virtual worlds in relatively small physical spaces. I am also keenly interested in leveraging gestural input and body motion for interactive systems such as video game applications for health, rehabilitation, training, and education.


Awards
---
2001 Ithaca College President's Scholarship (merit-based)
2005 University of North Carolina at Charlotte Graduate Assistant Support Plan (competitive award)
2007 IEEE Symposium on 3D User Interfaces Best Paper Award
2007 First Place
2009 Edward C. Giles Dissertation-Year Graduate Fellowship
2011 IEEE Symposium on 3D User Interfaces Best Technote Award
2011 Best Paper Award
2012 IEEE Virtual Reality Best Research Demo
2013 IEEE Virtual Reality Best Paper Honorable Mention
2014 ACM Symposium on Spatial User Interaction Best Poster Award
2014 IEEE Virtual Reality Best Poster Honorable Mention
2014 IEEE Virtual Reality Best Research Demo Honorable Mention