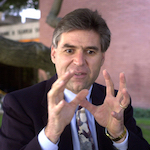 Professor of Electrical Engineering-Electrophysics, Chemistry, Physics and Astronomy, and Ophthalmology
Education
1977, PhD, Engineering and Applied Science, Yale University
1975, Masters, Engineering and Applied Science, Yale University
1972, Masters, Engineering and Applied Science, Yale University
1971, Bachelors, Physics, California Institute of Technology
Biography
---
Armand R. Tanguay, Jr. is Professor of Electrical Engineering, Chemical Engineering and Materials Science, and Biomedical Engineering at the University of Southern California. He received a B.S. degree in Physics (Cum Laude) from the California Institute of Technology in 1971, and M.S., M.Phil., and Ph.D. degrees in Engineering and Applied Science from Yale University in 1972, 1975, and 1977, respectively. Professor Tanguay is a founding member of the Center for Photonic Technology, serving in the past as both Deputy Director and Director. He was a founding member of the Integrated Media Systems Center, a National Science Foundation Engineering Research Center in multimedia and creative technologies, serving as Deputy Director and Associate Director for Research from 1995 to 1997, and is also a founding member of the Biomimetic MicroElectronics Systems Center, a National Science Foundation Engineering Research Center in neural prosthetic devices. He has further served as Director of the Center for Neural Engineering, as Associate Director for Research of the Signal and Image Processing Institute, and as a member of the Neuroscience Research Institute, the Neuroscience Graduate Program, and the Center for Vision Science and Technology.



Professor Tanguay is a Fellow of the Optical Society of America (OSA) and the American Association for the Advancement of Science (AAAS), and has received the Yale University Harding Bliss Prize, the USC Faculty Service Award, and the Rudolph Kingslake Medal and Prize of the Society of Photo-Optical Instrumentation Engineers (SPIE The International Society for Optical Engineering). He has served as an elected Faculty Fellow of the Center for Excellence in Teaching at the University of Southern California from 2001 through 2005, and was named a Distinguished Faculty Fellow in May, 2005. In addition, he was presented with a Teacher of the Year award in 2002 by the USC Latter Day Saint Student Association.




Research Summary
---
Professor Tanguay's research interests and experience include the crystal growth and characterization of optical and optoelectronic materials; dielectric and optical thin film physics; thin film deposition technology and characterization; device processing by ion beam milling and etching techniques; electronic/photonic packaging including multichip module integration by flip-chip bonding; physical optics; the physics and technology of electrooptic, optoelectronic, and integrated optical devices (including spatial light modulators, photorefractive volume holographic optical elements, diffractive optical elements, and advanced integrated optical signal processors); photonic implementations of neural networks; smart cameras (including adaptive nonlinear dynamic range compression and color constancy); surgically-implantable intraocular cameras and multielectrode arrays for retinal prostheses; immersive panoramic cameras; 3-D visualization and full-volume 3-D displays; chaos in neural networks; 2-D and 3-D conformal multielectrode neural probes and neural unit array prostheses for the brain; hybrid biological/electronic/photonic computational modules; and the fundamental and technological limitations of optical information processing and computing.



Professor Tanguay's current research programs are highly interdisciplinary in nature, and include the development of hybrid electronic/photonic multichip modules for vision applications; the design, fabrication, and testing of an intraocular camera to be used in conjunction with advanced conformal multielectrode arrays to form a retinal prosthesis for blindness induced by retinitis pigmentosa and macular degeneration; the use of human psychophysical techniques to develop optimal image acquisition and stimulation protocols for retinal prosthetic devices with limited numbers of microstimulator electrodes; the study of lateral brightness and chromatic adaptation in the human visual system; and the search for the fundamental origins of layering throughout the human visual and cortical systems.


Awards
---
1967 Bank of America Prize Scholarship for Science and Mathematics
1967 National Merit Scholarship, California Institute of Technology
1970 University of California, Los Angeles (UCLA) Scholarship, Plasma Physics Workshop
1971 Graduate Research Fellowship, Yale University
1971 Henry P. Becton Prize Fellowship, Yale University
1971 National Science Foundation Scholarship, Solid State Physics Workshop, Montana State University
1973 Danforth Foundation Kent Fellowship, Yale University
1978 Harding Bliss Prize, Yale University
1983 Archimedes Circle Faculty Service Award, University of Southern California
1986 NATO Collaborative Award, University College London
1986 Rudolph Kingslake Medal and Prize, Society of Photo-Optical Instrumentation Engineers (SPIE)
1986 Fellow, Optical Society of America (OSA)
1999 Fellow, American Association for the Advancement of Science (AAAS)
2001 Faculty Fellow, Center for Excellence in Teaching, University of Southern California
2002 Teacher of the Year Award, USC Latter Day Saint Student Association, University of Southern California
2005 Distinguished Faculty Fellow, Center for Excellence in Teaching, University of Southern California
2006 Tenth Year Anniversary Award, Center for Excellence in Teaching, University of Southern California
2007 Optical Society of America Student Presentation Award (Michelle C. Hauer)
2007 Optical Society of America Student Presentation Award (Noelle R. B. Stiles)
2010 Popular Mechanics Breakthrough Award (For the Development of Intraocular Retinal Prostheses)