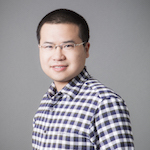 Robert G. and Mary G. Lane Endowed Early Career Chair and Associate Professor of Electrical and Computer Engineering and Chemical Engineering and Materials Science
Education
2013, Doctoral Degree, Electrical Engineering and Computer Science, Massachusetts Institute of Technology
2007, Master's Degree, Electrical and Information Science, Cambridge University
2006, Bachelor's Degree, Electrical and Information Science , Cambridge University
Biography
---
Han Wang joined the University of Southern California (USC) in 2014 where he is currently an Associate Professor of Electrical and Computer Engineering and holder of the Robert G. and Mary G. Lane Early Career Chair. Currently, he also leads the low dimensional materials research at Taiwan Semiconductor Manufacturing Company (TSMC) Corporate Research. He received the B.A. and M.Eng. degree in electrical and information science from Cambridge University in 2007 and his PhD degree from Massachusetts Institute of Technology in 2013. From 2013 to 2014, he was with the Nanoscale Science and Technology group at IBM T. J. Watson Research Center. His research interests include the fundamental study and device innovation in electronics and photonics technology based on emerging nanomaterials for computing, communication and sensing applications.

His work has been recognized with numerous awards including the IEEE Nanotechnology Council Early Career Award, the Army Research Office Young Investigator Award, National Science Foundation CAREER Award, USC Viterbi Junior Faculty Research Award, USC Zumberge Faculty Research Individual Award, the Roger A. Haken Best Paper Award in IEEE International Electron Device Meeting (IEDM), the Best Paper Award in International Conference on Compound Semiconductor Manufacturing Technology (CS MANTECH) and the MIT Jin-Au Kong Best Doctoral Thesis Award. He is the IEEE Nanotechnology Council Distinguished Lecturer for 2020-2021. He is also the recipient of the Orange County Engineering Council (OCEC) Outstanding Educator Award for contributions to science and engineering education in the Los Angeles area.


Research Summary
---
Our research is at the intersection of nano-electronics, nanophotonics and materials science, exploring topics such as:
Advanced nanoelectronic materials for computing, sensing and energy applications
Science and technology of novel nanomaterials, e.g. black phosphorus, MoS2, WSe2, graphene, hBN, etc.
Energy-efficient memory and computing electronics, optoelectronics and their interface with biological systems
New materials for high-speed electronics and power electronics application.
Han Wang Research Summary
Awards
---
2020 IEEE Nanotechnology Council Distinguished Lecturer
2019 IEEE Nanotechnology Council Early Career Award
2018 Army Research Office Young Investigator Award
2018 USC Viterbi School of Engineering Junior Faculty Research Award
2018 Orange County Engineering Council (OCEC) Outstanding Educator Award
2017 National Science Foundation (NSF) CAREER Award
2015 USC Zumberge Faculty Research Individual Award
2013 MIT MIT Jin-Au Kong Best Doctoral Thesis Award
2012 IEDM Roger A. Haken Best Paper Award in IEEE International Electron Device Meeting
2010 International Conference on Compound Semiconductor Manufacturing Technology (CS MANTECH) Best Student Paper Award