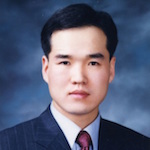 Assistant Professor of Chemical Engineering and Materials Science and Electrical Engineering-Electrophysics
Education
1996, Bachelors, Polymer Science , Seoul National University
2006, PhD, Materials Science and Engineering, M.I.T.




Biography
---
Prof. Yoon joined the MFD faculty at the University of Southern California in 2011. Between 2007 and 2010, he was a Beckman Institute Postdoctoral Fellow at the University of Illinois at Urbana-Champaign and worked on Si and III-V single-crystalline nanomaterials for unusual format photovoltaic modules, radio-frequency electronics, near-infrared imagers, and solid state lighting/display devices. Prof. Yoon received his B.S. degree in Polymer Science from Seoul National University in South Korea, and Ph.D. degree in Materials Science and Engineering from the Massachusetts Institute of Technology, respectively. His doctoral work was focused on utilizing block copolymers to form highly ordered self-assembled photonic bandgap materials for their applications in optically-driven lasing and stimuli-responsive photonic devices.




Research Summary
---
Yoon group's research aims to tailor and understand novel optical, electrical, thermal, and mechanical properties of inorganic single-crystalline semiconductor materials configured with top-down fabricated, programmable nano- or microscale features in ways that can maximize the performance and cost-effectiveness in applications using these materials. We also pursue to explore unconventional pathways to heterogeneously integrate them as synergistic building blocks into device- and circuit-level implementation on various substrates of interest including a thin sheet of plastics for constructing flexible and stretchable systems. Specific technological areas of interest include high performance, low cost photovoltaic and photoelectrochemical water splitting systems based on printed assemblies of nanostructured silicon and III-V materials, and skin-mountable or implantable microlasers based on released vertical cavity surface emitting lasers (VCSELs) for biointegrated optoelectronic sensors and actuators.


Awards
---
1993 SNU Seoul National University Honors Fellowship
1995 SNU Dong-Il Full Tuition Fellowship
1996 SNU Graduation with Highest Honors
2001 MIT Dupont-MIT Fellowship
2010 UIUC Beckman Institute Postdoctoral Fellowship
2012 DARPA DARPA Young Faculty Award
2015 HanWha HanWha Non-Tenured Faculty Award
2017 USC Viterbi School of Engineering Junior Research Award