Eric Mankin
July 18, 2012 —
USC Viterbi School of Engineering Professor Martin Gundersen is internationally famous for his development of a technology called pulsed power that has applications ranging from clean energy to cancer therapy. Now his contribution in another field, encouraging films about science, is producing titles and the encouragement has spread in multiple directions.
Behing the camera: Valerie Weiss, PhD. (Photo: House Lights Media Partners)
In October, Valerie Wiess' film "Losing Control" will become available as a DVD, after a recent release in seven cities. Weiss' path from the Harvard biophysics Ph.D. program to PhD Productions, headquartered on Formosa Street in Hollywood, accelerated at the 2004 "Catalyst Workshop: Communicating Science and Engineering" held at the American Film Institute.
Gundersen, who now has an appointment in the Dornsife Department of Physics as well as the Ming Hsieh Department of Electrical Engineering, was the catalyst for Catalyst. He had previously worked with directors including Alex Singer ("Star Trek: Voyager") as a scientific advisor, and had even appeared as a character, a math professor, in "Real Genius" in 1985.
When then-National Academy of Engineering President William Wulf wrote a letter expressing support for what he was doing, Gundersen put in an application with the Air Force Office of Scientific Research, resulting in funding for Catalyst. It was followed by a series of events, starting with the AFI workshop, which included an intensive coaching session for hopeful screenwriters, including Weiss.
Catalyst concluded in 2007, after exposing numerous scientists to the needs and views of the entertainment industry, voiced by numerous industry notables, including director Martha Coolidge, with whom Gundersen worked as a scientific advisor on various projects. It was subsequently revived with private funding in 2009.
Gundersen remained in touch with Weiss, who continued to refine and perfect a comic screenplay about a female scientist who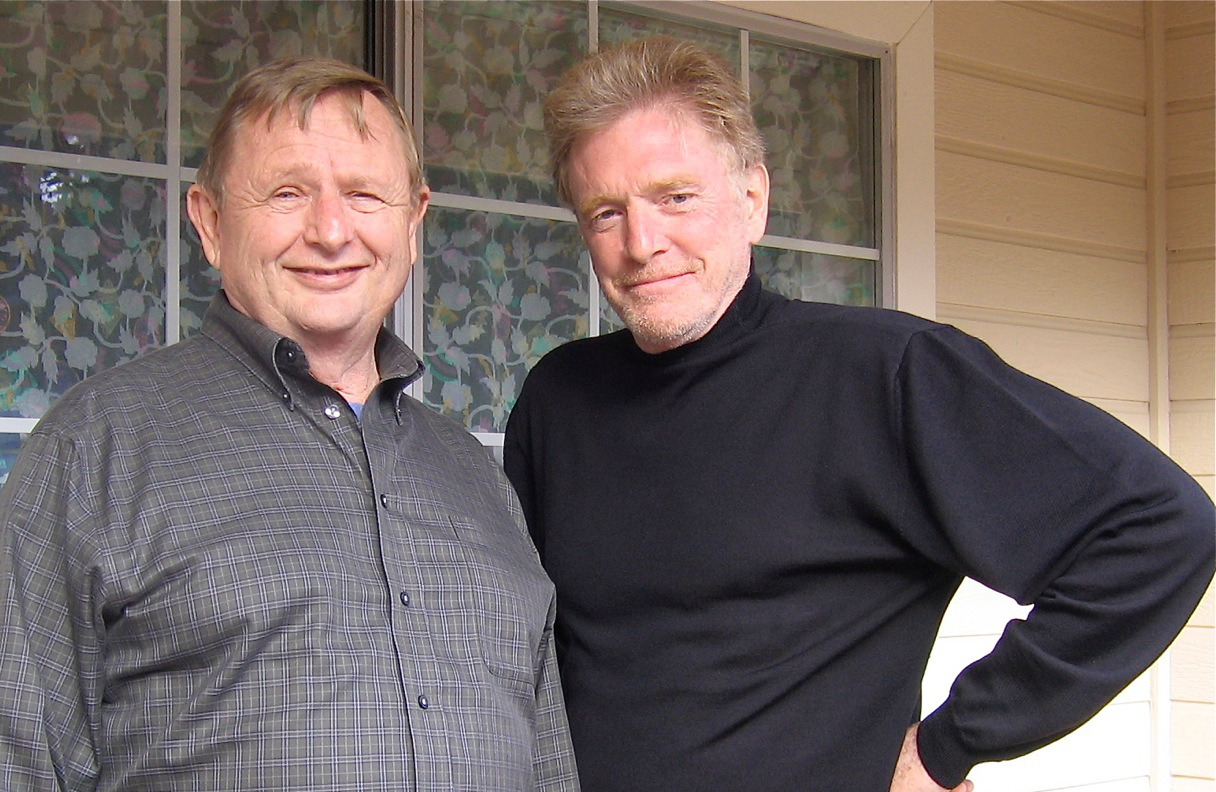 Martin Gundersen and William Atherton. Gundersen played a math professor Atherton's 1985 film, "Real Genius." (Photo by Bobbi Goldin)
wanted to develop a scientific proof that her boyfriend was the right one. "'Losing Control,' she told an interviewer on the website Scientista, "has been a big part of what I've been doing since I left science — it's very authentic in terms of how it approaches science and scientists. Realistic, authentic portrayals of scientists, which people are so grateful for when they see it: no stereotypes."
Weiss got funding, went into pre-production in 2009, completed the film in 2011 and went through the complex business of acquiring distribution, not a skill taught in biophysics, while also directing several televion projects.
In March, 2012 she spoke to NPR's Ira Flatow about her experience saying she based her lead character "on myself and my friends, and she, you know, my [Harvard science] class was actually 50 percent women. And the women weren't like the stereotypes you see in movies. They were real and vulnerable and had boyfriends and lovers."
In the meantime, other efforts on encouraging science, particularly among young women, were underway. One example that has raised hackles on both sides of the Atlantic was produced by the European Union, entitled "Science: It's a Girl Thing," offered a parade of ultra-dressed models strutting across sound stages to retro-pop soundtrack intercut with scientific apparatus, an atrocity Weiss brought to Gundersen's attention.
The mixture is still mixing. A disc of the new feature film by a star product of Martin Gundersen's Catalyst Project will be on sale on October 30.