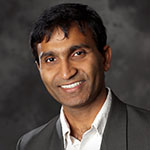 Lloyd F. Hunt Chair of Electrical Power Engineering and Professor of Electrical and Computing Engineering and Computer Science
Education
1993, Bachelor's Degree, Computer Science, National Institute of Technology
Doctoral Degree, Computer Engineering, University of Michigan Ann Arbor
Master's Degree, Computer Science, Colorado State University
Biography
---
Murali Annavaram has been a faculty member in the Ming-Hsieh Department of Electrical Engineering at the University of Southern California from 2007. He currently holds the Robert G. and Mary G. Lane Early Career Chair. His research focuses on energy efficiency and reliability of computing platforms. On the mobile platform end, his research focuses on energy efficient sensor management for body area sensor networks for continuous and real-time health monitoring. He also has an active research group focused on computer systems architecture exploring reliability challenges in the future CMOS technologies. Murali received NSF CAREER award in 2010 and an IBM Faculty Partnership award in 2009. He is also passionate about his teaching. He received the Stevens Institute's Innovation Inside curriculum award for jointly developing a mobile systems design course.

Prior to his appointment at USC, he was a senior research scientist at the Intel Microprocessor Research Labs from 2001 to 2007 working on energy efficient server design and 3D stacking architectures. In 2007 he was a visiting researcher at the Nokia Research Center, Palo Alto working on virtual trip line based traffic sensing. His work on Energy Per Instruction Throttling at Intel is implemented in Intel Core i7 processor to turbo boost performance at a fixed power budget. His work on Virtual-Trip-Lines at Nokia formed the foundation for Nokia Traffic Works product that provides real time traffic sensing using mobile phones. He received the Ph.D. degree in Computer Engineering from the University of Michigan, Ann Arbor, in 2001. He is a Senior Member of IEEE and ACM.


Research Summary
---
The compute capability of today's high end mobile devices rivals the desktop performance of the early 90s. With increasing system integration these devices now offer rich set of features that are uniquely well suited for mobile environments, such as built in GPS receivers, multi mega pixel cameras with video recording capability. The next step in progression is the development of software that takes advantage of these features to provide services to mobile users on the go. One prominent application is location based services that use the GPS capability to provide information that is relevant to a user's location. As the popularity of these applications grows information privacy is a cause for serious concern. For instance, mobile devices can potentially become tracking devices since the location information is revealed to the application service providers. One aspect of my research focuses on preserving privacy in mobile environments. Some interesting questions that my research will answer are, how to tradeoff information relevance with location accuracy? How to tradeoff power consumption with information relevance?

As mobile devices with significant compute power become ubiquitous the logical next step is to harness the collective compute and communication power of billions of mobile devices to create new usage models in future, such as real time traffic monitoring and social networking. I will research how to allow mobile devices to proactively interact and share the knowledge of their surroundings without compromising privacy and security. For instance, a mobile device user can request for a recommendation of a restaurant with the least waiting times within the vicinity. Users in nearby restaurants can provide this information, in real time, provided the information does not compromise the privacy and the provider has an incentive for providing the information. There are challenges both at the hardware and software level for these new usage models to work, which will be the focus of my mobile platform research.


Awards
---
2010 NSF NSF CAREER AWARD
2009 Body Computing Award
2009 IEEE International Conference on Distributed Computing in Sensor Systems DCOSS Best Paper Award
2009 ACM ACM Senior Membership
2009 IEEE IEEE Senior Membership
2008 IBM IBM Faculty Parternship Award
2004 Intel Division Recognition Award
2002 Intel Division Recognition Awards
1996 University of Michigan University of Michigan EECS Department Fellowship
1987 Andhra Pradesh State Government, India 14th Rank in state wide High School Graduation Exam
1987 Indian Government National Merit Scholarship
- 32nd Rank in AP Engineering and Medical Common Entrance Test
- Nokia Exemplary Team Achievement award
- USC Stevens USC Stevens Institute Innovation Inside Award