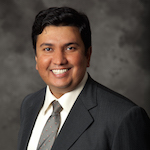 Associate Professor of Information Technology and Industrial and Systems Engineering Practice
Education
1989, Bachelor's Degree, Mechanical Engineering, Birla Institute of Tech & Science
Master's Degree, Aerospace Engineer, University of Southern California




Biography
---
MS Aerospace Engineering
BS Mechanical Engineering

Nitin Kale is a Senior Lecturer in the Information Technology Program (ITP) with a joint appointment in the Epstein Department of Industrial and Systems Engineering (ISE) at the Viterbi School of Engineering. He has taught at ITP since 1995 in the areas of programming, web design, interactive multimedia and Enterprise Resource Planning (ERP). He has also been teaching at ISE since 2005 in the area of database design. Nitin's current areas of teaching are database modeling, application development, enterprise software, and business intelligence. He is an active faculty member of the SAP University Alliances program.
He earned his Bachelor of Engineering in Mechanical Engineering from the Birla Institute of Technology and Science, India in 1989. He received a Master of Science in Aerospace Engineering from the University of Southern California in 1990.


Awards
---
- SAP University Alliances Visionary Member Award
1994 Aerospace Engineering, USC Research Assistantship, Geophysical Fluid Dynamics
1995 Graduate School Dissertation Fellowship
1998 Information Technology Program, VSoE Outstanding Faculty Award
2005 Information Technology Program, VSoE Teaching Award
2012 Epstein Department of Industrial and Systems Engineering Teacher of the Year for Excellence in Teaching and Dedication to Students