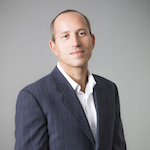 Professor of Electrical Engineering-Systems and Computer Science
Education
2002, PhD, Electrical Engineering, Stanford Univ
1999, Masters, Electrical Engineering, Stanford Univ
1997, Bachelors, Electrical Engineering
Biography
---
Konstantinos Psounis is an associate professor of Electrical Engineering and Computer Science at the University of Southern California. He received his first degree from the department of Electrical and Computer Engineering of National Technical University of Athens, Greece, in June 1997, the M.S. degree in Electrical Engineering from Stanford University, California, in January 1999, and the Ph.D. degree in Electrical Engineering from Stanford University in December 2002.

Konstantinos models and analyzes the performance of a variety of networks, including the Internet, mobile ad hoc networks, delay and disruptive tolerant networks, sensor networks, mesh networks, peer to peer networks and the web. He also designs methods and algorithms to solve problems related to such systems. He is the author of more than 60 research papers on these topics. Konstantinos has received faculty awards from NSF, ARL, CISCO Systems, the METRANS transportation center, and the Zumberge foundation, has been a Stanford graduate fellow throughout his graduate studies, and has received the best-student National Technical University of Athens award for graduating first in his class. He is a senior member of both IEEE and ACM.


Research Summary
---
My research interests lie in the area of Networking. Networking research fascinates me for the impact that it has to every day's life, as well as because of the tremendous breath of the field. While the Internet, being the largest of all networks, has been my main focus of research in the past, since I joined USC I have developed strong interest in other types of networks too, like sensor, mobile ad hoc, delay and disruptive tolerant, and mesh networks.

Broadly, networking research has two flavors. First, ``system- design'' research is mainly about protocol and algorithmic design, implementation and experimentation. Second, ``network-theory'' research is mainly about performance analysis using tools like queueing, probability, and information theory. The research I enjoy most is a combination of these two. I like designing algorithms and methods that solve real problems, but I also want to verify their correctness and good performance using theoretical tools like probability, combinatorics, optimization, etc.

For a detailed presentation of my research work, see my personal research web site and my lab's web site.


Awards
---
1992 Hellenic National Foundation of Scholarships (IKY) award
1992 Technical Institution of Greece (TEE) award
1997 Stanford University Illeana and Eric Benhamou Stanford Graduate Fellowship
1997 National Technical University of Athens Best-student National Technical University of Athens award
2004 Viterbi School of Engineering Charles Lee Powel Assistant Professor Scholarship Award
2005 National Science Foundation NSF NeTS grant/award
2005 Zumberge Foundation Zumberge award
2007 METRANS Transportation Center METRANS research grant/award
2008 IEEE IEEE Senior Member Award
2008 Cisco Systems Cisco Systems Grant/Award
2008 NSF NSF NeTS Grant/Award
2008 Cisco Systems Cisco Systems Grant and Best Presentation Award
2008 NSF NSF REU site Grant/Award
2009 METRANS Transportation Center METRANS transportation center Grant/Award
2009 ACM ACM Senior Member Award
2011 Cisco Systems Cisco Systems Grant
2011 Ming Hsieh Institute Ming Hsieh Institute (MHI) Grant