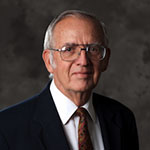 Fred H. Cole Professorship in Engineering and Professor of Electrical Engineering-Systems
Education
1964, PhD, Electrical Engineering, Stanford Univ
1960, Masters, Electrical Engineering, University of Southern California
1958, Bachelors, Electrical Engineering, University Cincinnati
Biography
---
Robert A. Scholtz is a Distinguished Alumnus of the University of Cincinnati, where as a Sheffield Scholar, he received the Degree in Electrical Engineer in 1958. In 1958 he received an honorary membership in the Dayton Engineers Club for receiving the highest grade in the State of Ohio Engineer-in-Training exam. He was a Hughes Masters and Doctoral Fellow while obtaining his MS and PhD degrees in Electrical Engineering from USC in 1960 and Stanford University in 1964 respectively.

Dr. Scholtz, working on missile radar signal processing problems, remained part-time at Hughes Aircraft Company until 1978. In 1963, Dr. Scholtz joined the faculty of the University of Southern California, where he is now the Fred H. Cole Professor of Engineering. From 1984 through 1989, he served as a founding Director of USC's Communication Sciences Institute, and from 1994 to 2000 he was Chairman of the Electrical Engineering Systems Department. In 1996, Dr. Scholtz formed the Ultrawideband Radio Laboratory (UltRa Lab) to provide facilities for the design and test of impulse radio systems and other novel high-bandwidth high-data-rate wireless mobile communication links. In 2000 he added an RF ancehoic chamber to the test facility.

His research interests include communication theory, synchronization, signal design, coding, adaptive processing, and pseudonoise generation, and their application to communications and radar systems. He has co-authored the books Spread Spectrum Communications, the Spread Spectrum Communications Handbook, and Basic Concepts in Information Theory and Coding.

In 1980, Dr. Scholtz was elected to the grade of Fellow in the Institute of Electrical and Electronic Engineers (IEEE) "for contributions to the theory and design of synchronizable codes for communications and radar systems." He has received several best paper awards, including the IEEE ComSoc's Leonard G. Abraham Award, the 1984 Donald G. Fink Prize of the IEEE, 1992 Senior Award and the 2012 Best Paper Award of the IEEE Signal Processing Society, and the 2003 S. A. Schelkunoff Prize from the IEEE Antennas and Propagation Society. In 2001 Dr. Scholtz received the lifetime Military Communications Conference Award for Technical Achievement. Dr. Scholtz is a co-recipient of the 2006 Eric E. Sumner Medal from the IEEE "for pioneering contributions to ultra-wide band communications science and technology." In 2007 he received the first Technical Recognition Award from the IEEE ComSoc Radio Communications Committee. Dr. Scholtz was elected to the National Academy of Engineering in 2009 "for contributions to the fields of ultra-wideband and spread-spectrum communications"

Dr. Scholtz has been an active member of the IEEE for many years, manning several organizational posts, including Finance Chairman for the 1977 National Telecommunications Conference, Program Chairman for the 1981 International Symposium on Information Theory, and Board of Governors positions for the Information Theory Group and the Communications Society. He has been General Chairman of seven workshops in the area of communications, including most recently three ultrawideband radio workshops. He has consulted for many corporations, including the Jet Propulsion Laboratory, Lincom Corporation, Axiomatix Inc., Technology Group, TRW, Pulson Communications (Time Domain Corporation), and Qualcomm. He has been an active participant on NSF panels and in research planning workshops of the US Army Research Office, and has served as a consultant to the Defense Science Board.



Research Summary
---
Communication theory, spread-spectrum techniques, ultra-wideband radio, pseudo-noise generation, applications to communication and radar systems.


Awards
---
- American Men and Women of Science
- Community Leaders of America
- Dictionary of International Biography
- Five Thousand Personalities of the World
- International Who's Who in Education
- Men of Achievement
- Personalities of America
- Personalities of the Americas
- Two Thousand Notable Americans
- Who's Who in Aviation and Aerospace, U.S. Edition
- Who's Who in California
- Who's Who in Engineering
- Who's Who in Frontiers of Science and Technology
- Who's Who in Science and Engineering
- Who's Who in Society
- Who's Who in Technology Today
- Who's Who in the West
1957 RCA Scholarship
1958 Honorary Membership in the Dayton Engineer's Club
1958 Sheffield Scholar
1960 Hughes Aircraft Company Masters Fellowship
1963 Hughes Aircraft Company Doctoral Fellowship
1967 IEEE Information Theory Group Browder J. Thompson Award
1971 Chosen by the National Academy of Science to host the visit of S.I. Samoylenko to the United States
1972 Hughes Aircraft Company Invention Award A Coherent Digital Range-Error Processor
1975 Hughes Aircraft Company Invention Awards A Coherent Signal Detector
1980 Fellow of the Institute of Electrical and Electronic Engineers
1982 University of Cincinnati Distinguished Alumnus Award
1983 IEEE Trans. on Communications IEEE COMSOC's Leonard G. Abraham Prize Paper Award for "The Origins of Spread-Spectrum Communications"
1984 Recipient of the IEEE Donald G. Fink Prize Award for "The Origins of Spread-Spectrum Communications"
1985 Phi Kappa Phi Research Award Competition Honorable Mention
1986 Biography of the Year
1989 IEEE Transactions on Acoustics, Speech and Signal Processing Duncan Dlugos of the 1992 Senior Award of the IEEE Signal Processing Society for the paper "Acquisition of Spread-Spectrum Signals by an Adaptive Array"
1992 USC Award Excellence in Teaching
1993 Who's Who in American Education
1997 ATM Based Ultrawide Bandwidth (UWB) Multiple-Access Radio Network for Multimedia PCS," with M. Z. Win, J. H. Ju, X. Qiu, and V. O. K. Li, Fourth Annual Engineers Conference at NetWorld+Interop'97, that received the best student paper award from the conference program committee
1997 Ellersick Award for the outstanding unclassified paper at Milcom'97, "Strategies for minimizing the intercept time in a mobile communication network with directive/adaptive antennas."
2001 Military Communications Conference Award for Technical Achievement
2002 IEEE Transactions on Antennas and Propagation Co-recipient of the S. A. Schelkunoff Prize Paper Award, IEEE Antennas and Propagation Society, 2003 for the paper with Jean Marc Cramer and Moe Z. Win, "Evaluation of an Ultra-Wideband Propagation Channel"
2003 USC Schoolof Engineering Senior Research Award
2003 USC School of Engineering Fred H. Cole Professorship in Engineering
2003 IWUWBS2003 Best Paper Award from the meeting organizers for the pa- per, "Hybrid Fixed-Dwell-Time Search Techniques for Rapid Acquisition of Ultra-Wideband Signals"
2004 IEEE Plenary Speaker: ICUWB 2004
2005 IEEE Field Award: 2006 Eric E. Sumner Award
2006 IEEE Eric E. Sumner Medal and Award from the IEEE "for pioneering contributions to ultra-wide band communications science and technology"
2006 IEEE Plenary Speaker: ICUWB 2006
2006 IEEE Plenary Speaker: ISCCSP'06
2007 IEEE ComSoc Radio Communications Committee Technical Recognition Award
2007 IEEE ComSoc Radio Communications Com- mittee (RCC) for outstanding contributions to the technological advancement of radio communications Technical Recognition Award
2009 National Academy of Engineering Member
2010 Marquis Who's Who Who's Who in America, 2010
2010 Marquis Who's Who Who's Who in the World, 2010
2010 USC Mellon Mentoring Forum Mellon Award for Mentoring Graduate Students
2013 ICUWB 2013 Keynote Speaker