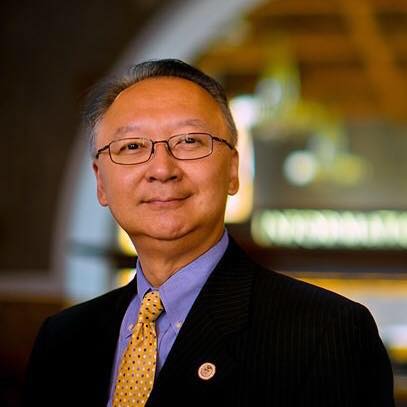 Adjunct Professor of Civil and Environmental Engineering Practice
Education
1995, Master's Degree, Transportation, University of California - Irvine
1993, Bachelor's Degree, Civil Engineering, University of California - Irvine




Biography
---
Professor Eric C. Shen, P.E., PTP is an accomplished leader and visionary in the field of infrastructure and transportation. With over three decades of practical experience, he has consistently demonstrated his expertise in project design, planning, and delivery, as well as emergency operations. As the founder and CEO of Shen and Associates, LLC, a newly established Southern California-based consulting firm, he provides clients in both public and private sectors with expert advice on multimodal strategic planning, capital projects and transportation program management, and interagency coordination.

Professor Shen's contributions extend to high-profile roles that highlight his dedication to progress. Notably, he was appointed by the Eco-Rapid Transit Board of Directors as the contracted Executive Director in late 2022 to continue advocating for the development of the 34-mile West Santa Ana Branch (WSAB) transit corridor project in the southeast region of Los Angeles County. His impact extends beyond project leadership - Professor Shen is an At-Large Director of the WTS-Los Angeles Board of Directors where his commitment is instrumental in advancing opportunities for women and minorities within transportation fields. Recognizing his wealth of knowledge and experience, Professor Shen's insights are sought at the national level. His appointment to the Intermodal Freight Committee (AT045) and previously served as Chair of the Marine Group (AW000), and the Ports and Channels Committee (AW010), by the esteemed Transportation Research Board of the National Academy of Sciences underscores his stature within the industry.

Professor Shen's journey has encompassed influential roles in various capacities, showcasing his versatile expertise. His tenure as Chief Engineer/Director of Capital Projects at the San Gabriel Valley Council of Governments (CA), Mid-Pacific Gateway Office Director of the Maritime Administration of the U.S. Department of Transportation (USDOT), and leadership positions at the Port of Long Beach (CA) and the City of Pasadena (CA) exemplify his impactful contributions.

Professor Shen has also made significant contributions to academia. His affiliation with the Viterbi School of Engineering began in 2008, where he initially served as an industry lecturer. This engagement followed his substantial tenure as a lecturer at both UC Irvine (UCI) and UCLA for a cumulative span of eight years. Here at USC, he ascended to the role of Adjunct Associate Professor of Civil Engineering & Environmental Engineering Practice in 2017, a testament to his commitment and teaching acumen. In 2023, Professor Shen was reappointed to Adjunct Professor rank. His instructional offerings include Traffic Engineering (CEE585), Sustainable Transportation (CEE430) and Transportation Studio (PPD531) at the Sol Price School of Public Policy, where he also undertakes the role of faculty advisor for the Institute of Transportation Engineers (ITE) USC Chapter.

Professor Shen's accomplishments are underpinned by an array of esteemed credentials. Holding the distinction of being a registered Professional Engineer in Alabama and California (Civil), a certified Transportation Professional Planner (PTP) by the Transportation Professional Certification Board of Washington DC, and a Certified Port Executive (CPE), he embodies a profound commitment to professional excellence.

Education has been a cornerstone of Professor Shen's journey, as he earned his Bachelor of Science in Civil Engineering with honors and his Master of Science in Civil Engineering from UCI. His exceptional contributions have earned him a roster of honors and awards, including his induction into The Hall of Fame by the UCI Samueli School of Engineering, the recognition of Distinguished Engineering Alum by the UCI Alumni Association, The Honorable Ray LaHood Award by the WTS-LA Chapter, The Outstanding Engineering Educator Award by the Orange County Engineering Council, and The Western ITE Outstanding Transportation Educator Award.

Professor Eric Shen's multifaceted journey is marked by innovation, leadership, and a profound commitment to advancing the fields of transportation and infrastructure. His contributions resonate across academia, industry, and public service, making him an exemplary figure whose impact is both far-reaching and enduring.


Awards
---
2020 honor issuerGreater Los Angeles Area Council, Boy Scouts of America Silver Beaver Award - Class 2019
2018 WTS-LA Honorable Ray LaHood Award 2018
2015 University of California, Irvine Samueli School of Engineering Hall of Fame
2015 Orange County Engineering Council Outstanding Engineering Educator Award
2013 Institute of Transportation Engineers Western District Outstanding Transportation Educator Award
2003 Alumni Association, University of California, Irvine UCI Lauds and Laurels - Distinguished Engineering Alumnus Award
1992 Chi Epsilon Chi Epsilon, National Civil Engineering Honor Society
1992 Tau Beta Pi Tau Beta Pi National Engineering Honor Society