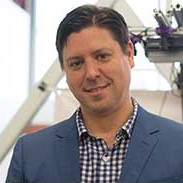 Part-Time Lecturer of Biomedical Engineering
Education
Doctoral Degree, University of Southern California
Master's Degree




Biography
---
Nicholas is a Commander in the US Navy, serving 6 ½ years active and 13 years reserve duty as a submarine officer. Commander Wettels is a 2000 graduate of Tulane University, where he received a Bachelor of Science degree in Physics and commission through the NROTC program. After graduation he conducted naval nuclear power training in Charleston, SC, followed by submarine officer training in Groton, CT.

Nicholas' active duty tours include USS Topeka (SSN 754) and Navy Recruiting District – Los Angeles where he was Engineering and Chaplain Programs Officer for 9 Southern California counties. His reserve career includes department head duty at two theater anti-submarine units supporting various 7th fleet theater exercises. He has also served in Office of Naval Research and Space and Naval Warfare Systems Command as the deputy for autonomous systems. His personal military awards include three Navy and Marine Corps Commendation Medals and three Navy and Marine Corps Achievement Medals.

Nicholas Wettels received his PhD in biomedical engineering from the University of Southern California in 2011. His dissertation titled, "Biomimetic Tactile Sensor for Grip Control and Object Identification" focused on endowing prosthetic hands with human-like sensing capability. His research was funded by a NASA GSRP Fellowship while interning on the Robonaut 2 project at Johnson Space Center.

In 2008, he co-founded the start-up company SynTouch to commercialize touch sensors for robotic and prosthetic hands and acted as its Chief Operating Officer for 4 years. Following SynTouch, Nicholas completed post-doctoral research studies at the NASA Jet Propulsion Laboratory writing navigation software and designing grippers for a gecko-inspired space robot for the International Space Station. He then founded Perception Robotics as CEO which was acquired by OnRobot in 2018 to form the one-stop-shop for collaborative robotic end-of-arm-tooling. Nicholas is now the R&D Director at OnRobot Los Angeles. His vision is to endow manufacturing robots with the same reach-and-grasp and touch sensing capabilities as humans. In addition to managing, Nicholas also writes firmware for the grippers and well as scientific computing and machine learning scripts.

Nicholas has been the principal investigator on 12 federal research efforts (primarily Small Business Innovative Research grants) and 2 corporate sponsored research & development projects, totaling more than 6 million USD. He has also authored 20 peer-reviewed journal articles, conference papers and book chapters and hold 5 patents (3 pending) in the field of robotics. He has received several technical awards including two best conference paper awards and world-wide, competitive 1st Place IEEE/ IFR 2018 Innovation and Entrepreneurship Award for outstanding technical work and commercialization of the Gecko Gripper.

Nicholas also has an MS in Engineering Management from Old Dominion University (2005), an MS from USC in Biomedical Engineering (2008) and is a graduate of the US Naval War College's Joint Professional Military Education Program (2015). Nicholas holds a nuclear engineer's license from the Dept of Energy (2003) and a Secret security clearance.




Research Summary
---
Nicholas Wettels is a researcher and entrepreneur in the robotics and electronics space. His goals are to devise and commercialize new robotic solutions commercial and government customers to foster better robotic manipulation, autonomy and signal processing.

Nick has written several Small Business Innovative Research (SBIR) grant and other types of similar proposals. Nick is also a Navy Reserve Commander.

His research interests include: static and dynamic force sensing techniques, multi-fingered manipulation, reach and grasp controllers, sensor fusion (vision/ EM + tactile), object property extraction, machine learning.